The management of the Federal College of Education, Zaria has directed all departments that have fixed NCE III examination on Tuesday, 11 May, 2021 should shift the examination to Monday, 17 May, 2021 to enable students to travel for (Sallah Break).
Secondly, NCE II Second Semester Examination that was scheduled to start on 17 May, 2021 has been shifted to 24th May, 2021.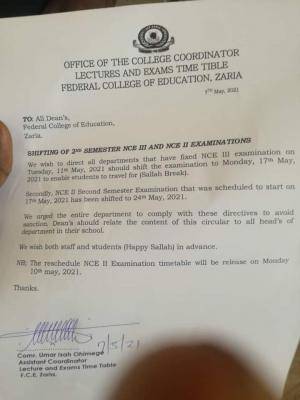 We urged the entire department to comply with these directives to avoid sanction. Dean's should relate the content of this circular to all head's of department in their school.
We wish both staff and students (Happy Sallah) in advance.
NB: The reschedule NCE II Examination timetable will be release on Monday 10 may, 2021.